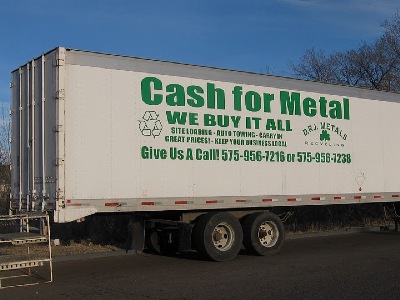 Thank you for visiting our new web page. As an up to date business, we want to give you the opportunity to stay in touch with our company and what we have to offer. A new content management system will enable us to always keep you up to date.

If you are not familiar with our company and this is your first contact with us online: We would be pleased to hear from you!! Please let us know what your needs and questions are, we will be more than happy to help.

In brief, you should know the following about us: our company was established in 2006 and had been responsible providing outstanding community support and top dollar for scrap metal . Our specialty is in the metal recyclying area. We take any kind of metal and contribute to the environment by recycling all metals. Our regular customers particulary value our integrity and our personable staff. Our business is located at 1535 Arroyo Lane in Silver City, NM 88061

Call us or come on down to see our friendly staff to see what we will pay you for metals that are no longer of use any longer. We strive to assist in community functions, one in particular is the Quail Ridge Fire Drive. Donations were made from a metal drive from us to contrubute to the families who lost so much in the fire.